Episodes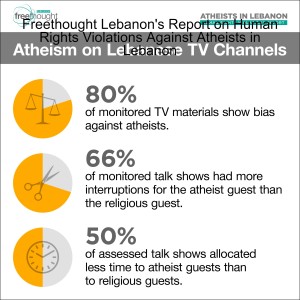 Wednesday May 05, 2021
Wednesday May 05, 2021
Join us in this live broadcast to discuss the report produced by Freethought Lebanon on the Human Rights Violations that atheists in Lebanon suffer from.
The Broadcast is hosted by Muslimish with founder Ibrahim Abdallah and cofounder Wissam Charafeddine.
The event is co-hosted by the Center for Inquiry Michigan with the Executive Director, Jennifer Beahan joining us live.
Joining us from Freethought Lebanon: 
Sami Abdallah is the president and co-founder of Freethought Lebanon and a diligent Lebanese civil society activist. A theoretical physicist by profession, Sami is passionate about both pursuing scientific truth and defending basic human rights. His upbringing in a conservative community in Beirut, as well as his first-hand experience in the hardships of religious indoctrination as a young student, propelled him to rebel against the status quo, endeavor to empower and protect freethinkers in Lebanon and around the world and fight against religious misogyny.
Mazen Abou Hamdan is a Lebanese civil rights activist and co-founder & editor-in-chief of Freethought Lebanon. He is a graduate of political philosophy and is currently completing a Master's degree in the "Philosophy & Strategies of Non-Violence". Mazen currently holds the position of 'Peacebuilding & Governance Lead' at Mercy Corps - Lebanon. In his personal time, Mazen is interested in collecting and learning how to play musical instruments from around the world.
Sarah Harake is a core member and an author of Freethought Lebanon and a civil rights activist. She is an internationally certified teacher, translator, and editor from Beirut continuing her master's degree in Germany. Sarah is driven by the injustices she witnesses done by religion and by her first-hand experiences of religious tyranny and upbringing in the religious areas of Lebanon to stand against religious and societal oppression.
Muslimish Mission is to create a safe, supportive, and open-minded environment for the exchange of thoughts and ideas among current and former Muslims; to foster a pluralistic society that respects the rights of all individuals to live according to their conscience, and to abolish blasphemy and apostasy laws across the globe.
Center for Inquiry (CFI) strives to foster a secular society based on reason, science, freedom of inquiry, and humanist values.
muslimish.org